Ladies and Gentlemen, here are the results of Songwriting Competition 24

The winners podium consists of
:
erictracks (61 pts)
ontrackp (54 pts, lists 10x2 pts and 9x2 pts)
Olli H (54 pts, lists 10x1 pts and 9x2 pts)
Apologies for the waiting time, this is
not
an automated process.
<4 participant rule is not in use (staff comments and votes)
We have
2 disqualifications
(no feedback/vote given)
We have 0 votes after the deadline
We have 3 users that tied (ontrackp had 10x2 and 9x2, Olli H had 10x1 and 9x2, DoctorBob has 10x1 and 9x1)
"Sole (License) Winner" rule does now apply -
3-position Winners Podium
Here are the results as chart in image form: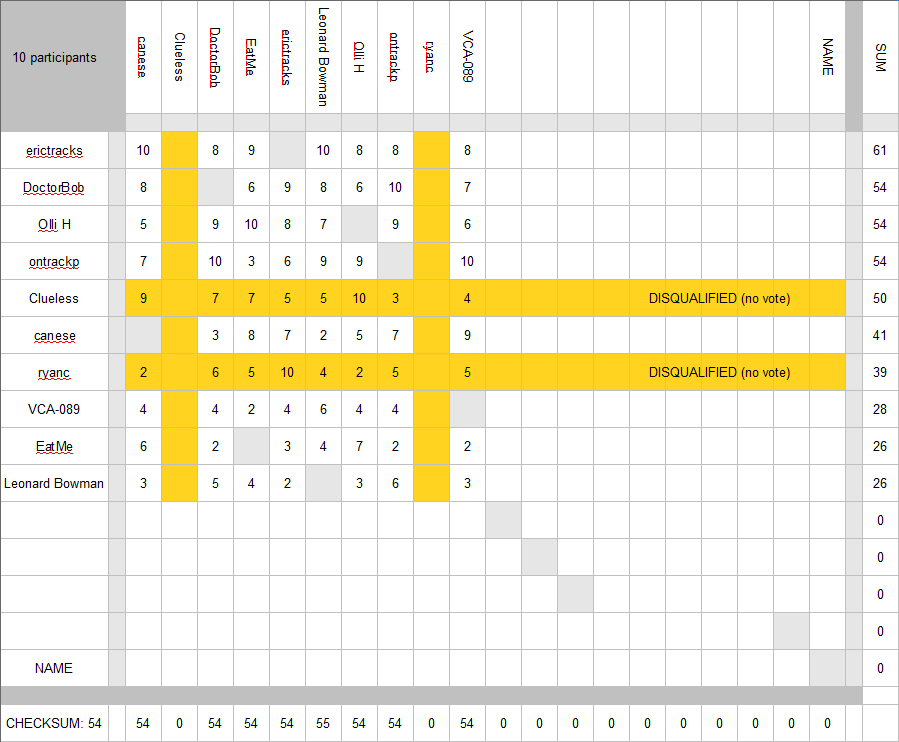 Thank you so much for your participation.


License selection:
We'll now perform with the usual. Selecting licenses is handled in public. Please select one license/company out of the pool (in order of the winners podium) and mention it in this thread, then (
important
) please get in touch with me (
via PM
) with your full name, email address and your license selection.
As usual - you're
not
forced to pick up anything. You can pass and therefore offer more to select for the next person in line (if there is a spot existing / not available for "sole winner" mechanic). Just let all participants/winners/the staff know in a timely manner.
Feedback about the "Songwriting Competition" is welcome (please
do so here
).
See you in in the next challenge!