The Mix Challenge started in June 2014 on KVR Audio. It branched out to Social Media (Twitter) in March 2015, the homepage "root" exists since September 2016, and the dedicated forum space has been online since April 2017. The challenge has been growing constantly and continues to be successful. So why not take a logical next step and see where this will take us?
Patreon
backers did already see the following chart on 5th June 2017.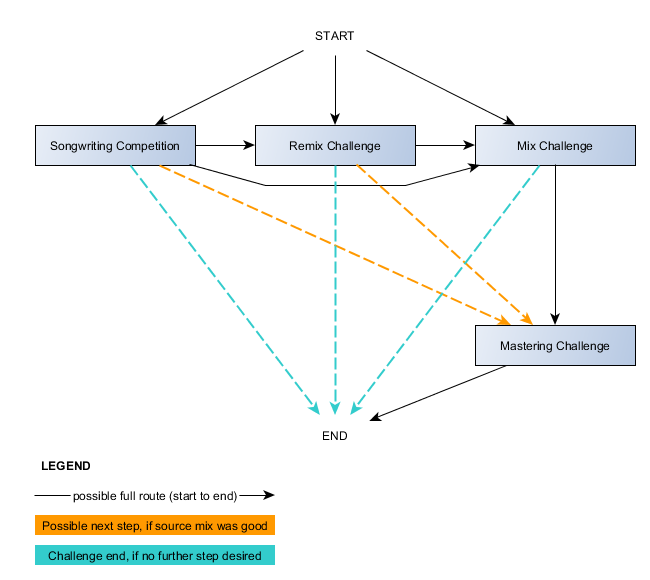 A NEW CONCEPT?
The idea to expand the Mix Challenge does not come out of the blue. There have been several requests since 2014 to do Mastering, but also Remix challenges. The challenge "itself" is constantly struggling to get new audio material. We could evade the one or another drought in the last couple of years, but it is no secret that things tend to run on hot air ever so often. Due to this, several ideas were brought up behind the scenes to either just thin out the schedule, or to do another competition instead of the Mix Challenge if there really is a lack of mix-packs. This worst case scenario thankfully never happened, as we somehow always managed to keep the machine running.
However, while we were still on KVR Audio, there
have been
several attempts to expand the "game" in some shape or form. One of them was the try to involve the other community based challenges "Music Cafe Songwriting Competition" (MCSC in short) and the "One Synth Challenge" (OSC in short). In fact, previous Mix Challenges were a direct result from that rare collaboration (thank you so much!). Sadly, it remained to be just that - a limited joint effort. On top of very limited room for maneuver due to the forum structure at the other message board.
Having said that - now that we're on a dedicated forum space, things can be different. More organized even.
So why not pick up these shelf-stored ideas and introduce a new spin to this community? Kick off the game with a songwriting or remix competition, move on to a mixing challenge, then move on to mastering. It would be a logical evolution, and we could lead one challenge into the other. Therefore create a possible self-sustainable eco system to theoretically(!) never run out of material for the Mix Challenge.
It is worth a try, IMO.
QUESTIONS AND ANSWERS
Q1) "I like the idea of an expansion. When can we see this change start to happen?"
A1) The current plan for expansion is around mid to late Q3/2017. The first new challenge could already start August 2017, parallel to the Mix Challenge
Q2) "But wouldn't that mean additional rules? And therefore more extra work"?
A2) Yes indeed. However, even though a lot of already existing text blocks can definitely be reused, the rules/guidelines for these challenges are not yet set it stone. And in some cases, the rule set can even be drastically simplified for the Remix and Songwriting competitions. This is where the participants come in. Yes, this would indeed mean extra work for the staff team to keep the challenges running, doing maintenance, behind the scenes material acquisition, etc. But there is hope that the off-branch games are just as self-sustained as the Mix Challenge is in it's current state.
Q3) "Wait... doesn't that mean a new evaluation system?!"
A3) Well, yes and no. The only new type of grading the audio material in question, would be for the songwriting competition. Here I'd propose to go with the route of a "popular vote" system. In fact, the first three Mix Challenges went with that route until we realized, that a "client evaluation" system worked better in the long run. The remix, mixing and mastering challenges can and should IMO stick to the client based evaluation, as we simulate a "client requests editing work based upon own material" scenario here.
Q4) "What about the homepage"
A4) There is still plenty of room to shuffle things around on the homepage, create suitable sub-menus and the likes. In fact, the forum has been already laid out for an expansion. But please let us take one step at a time.
Q5) What will the schedule be?
A5) The current plan is to do the challenges on a irregular/on demand schedule. This can of course turn into regular scheduled games at a later state - depending on the success. However, should things really turn too hectic, we'll try to find voluntary assistance. Feedback on this is welcome of course.
Q6) Do you need new audio material?
A6) Yes of course! For the Mix, Remix and Masterng Challenge, you can go the usual route via the
contact script
. The Songwriting Competition can be topic/theme based.
HOW DO WE GO FROM THERE?!
This is where the community comes in. Please give your feedback on the new concept. If you have wishes, concern, etc. I'm also not against possible name suggestions for the new competitions, to create an own fingerprint for the Mix Challenge community.
Thanks for reading, and please discuss.